Never too old for the road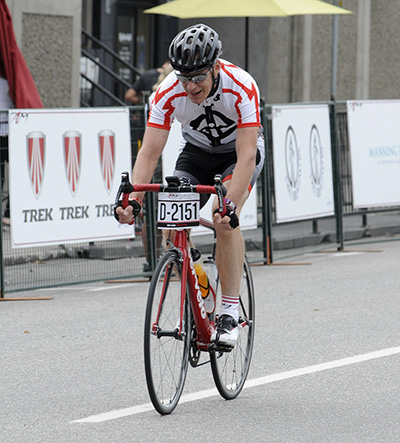 He may be close to 60, but staying in shape, triathlons, and a love of cycling push Anthony Brown to pedal 90 kilometres a week.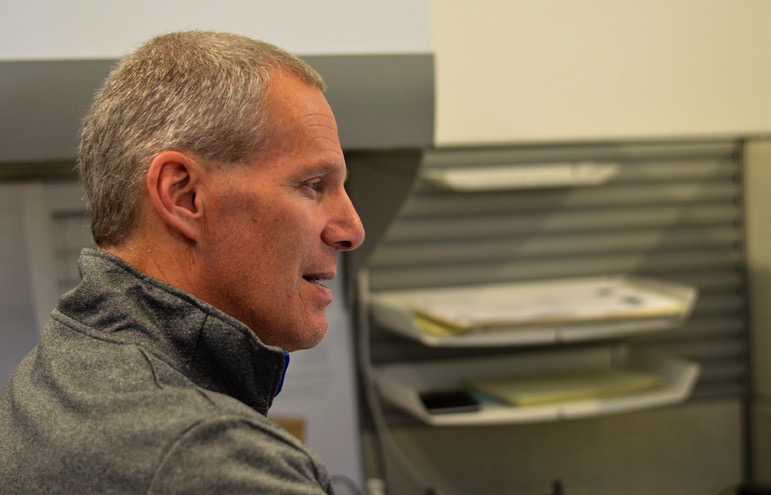 Photo by Wyatt Tremblay
Anthony Brown cycles an average of 90 kilometres a week. At 59 he says he just likes to keep in shape
.

by Wyatt Tremblay
There is excitement in Anthony Brown's voice when he talks about cycling, but he says he's not that serious about it.
"I just like to stay in shape," says the 59-year-old, who averages 90 kilometres a week on his bicycle.
Brown, a building officer in the
Taylor Family Digital Library
at the University of Calgary, says his age is not an issue.
"Not yet," he laughs.
Brown hits the road two to five times a week during the non-winter months, but also mixes things up by running and swimming all year long. He does all three because he developed an interest in
triathlons
.
He participated in his first race 16 years ago while in his 40s, using a
mountain bike
for the cycling portion. When the race organizers made the move to using
road bikes
, he realized he needed to up his conditioning.
"The races were faster," he says, "and if you rode hard on the bike, when you jumped off to run, you're legs just wouldn't do it."
He says he's used a method called
The Brick
workout to change this.
He would do a short ride on the bike then hop off to do a run. He'd do this several times and his legs would feel bricks.
"Hence the name, The Brick," he jokes.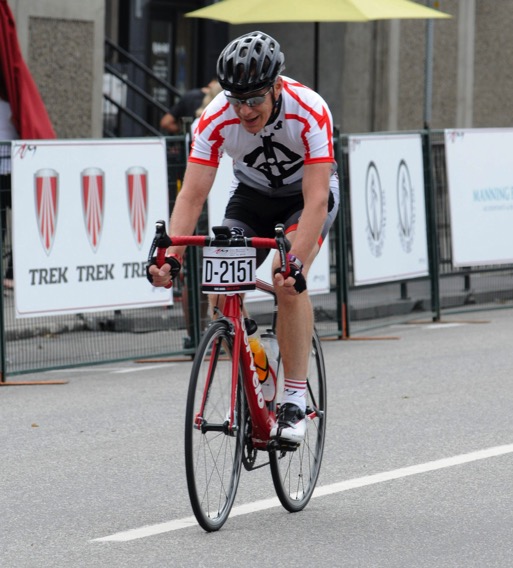 Submitted photo
Anthony Brown during the 6th annual Prospera Granfondo
Axel Merckx Okanagan in Penticton this summer.
Peter Eaton, a longtime resident of Calgary, has a similar experience to Brown's.
Eaton, the head of business development for AltaGas, is 55 and cycles "everywhere."
And, he means everywhere, all year long. From his home to his office in downtown Calgary, to the grocery store, to
Banff
, you name it, if he's heading that way, he'll be on his bike.
Like Brown, he likes to stay in shape but he has another reason for cycling.
Eaton is in the oil and gas industry, but he doesn't like burning fossil fuels.
"It's a matter of principle," he explains.
Just because he's in the energy sector, he says, doesn't mean he has to drive a large, "spewing" truck.
Has his age made a difference in how he cycles?
Yes, and no, Eaton says. He stretches a little more these days before going on long rides, and takes extra care to avoid injuries.
"It just takes longer to recover."
See here for some
basic cycling stretches
.
Otherwise, he continues to participate in road races, like this year's
Tour de Alberta
, a road cycling stage race.
Although Eaton feels he is slowing down as he ages, cycling "is not something I'm ready to give up, yet."
Brown has a similar self diagnosis.
His running has slowed down in the last few years. It could be age, he says, but he isn't losing time as a swimmer or cyclist in the triathlons.
In order to be competitive, he has had to "up his game" in the cycling portion of the races. He's accomplishing this by doing shorter, more intense practices, to bring the heart level up, to get more used to being uncomfortable.
"In other words," he explains, "to become more comfortable being uncomfortable."
Brown has made no changes to how he preps himself for a race from when he first started racing 16 years ago, but he admits his recovery time is longer.
"It feels different," he explains.
The races were faster, and if you went to hard on the bike, when you jumped off to run, you're legs just wouldn't do it. - Anthony Brown
Brown can do the same workout as he did years ago, but now he feels it more the next day.

So, he makes an effort to avoid injuring himself.

"It just takes longer to get back."

He has a touch of

osteoarthritis

in the big toe of his left foot and says it hampered his running this summer.

He didn't run for two months until he got some new orthotics and worked through the discomfort.

"It feels bruised," he says, "But now I can run."

Though he says he has to take care not to reinjure the toe.

"Honestly," he says, "it's about not letting your age define what you enjoy."

And Brown enjoys the whisper of the bike chain, the wind in his face, and the feeling of accomplishing his workout goals for that day.


Check out this video on orthotics for cyclists.